Why do Sharks have teeth? What is special about Shark teeth?
Why do sharks have sharp teeth?
Sharks like to feed on meat and flesh. They feed on smaller fishes and invertebrates like crabs, shrimps, reptiles like turtles, and other larger species of prey like the seals, sea lions, and other marine mammals.
For hunting and feeding on meat and flesh, they do have only their sharp teeth. As they do lack limbs to hold onto their prey.
The teeth and the jaws are the only organs that help them hunt and eat their prey. These sharp teeth act like a hunting knife that they use to cut easily through tough the flesh and bones of their prey.
So, they not only have sharp pointed teeth but also have many combinations of long pointed teeth and wider serrated teeth to kill and feed upon their prey.
The teeth can be of dense flattened type, needle-like, pointed-shaped triangular teeth, and some of the teeth may also be non-functional. Now, the combination of teeth varies from species to species based on their feeding habits.
Now, for all of the species of shark known to date, the Tiger shark and another one called the Silky shark had the sharpest teeth.
The silky shark feeds mainly on bony fishes and cephalopods, while the Tiger shark being one of the apex and the most deadly predator is known for eating almost anything.
So, seeing their feeding habits, the more meat and flesh-eating sharks are known to have more sharp, pointed, and knife-like teeth.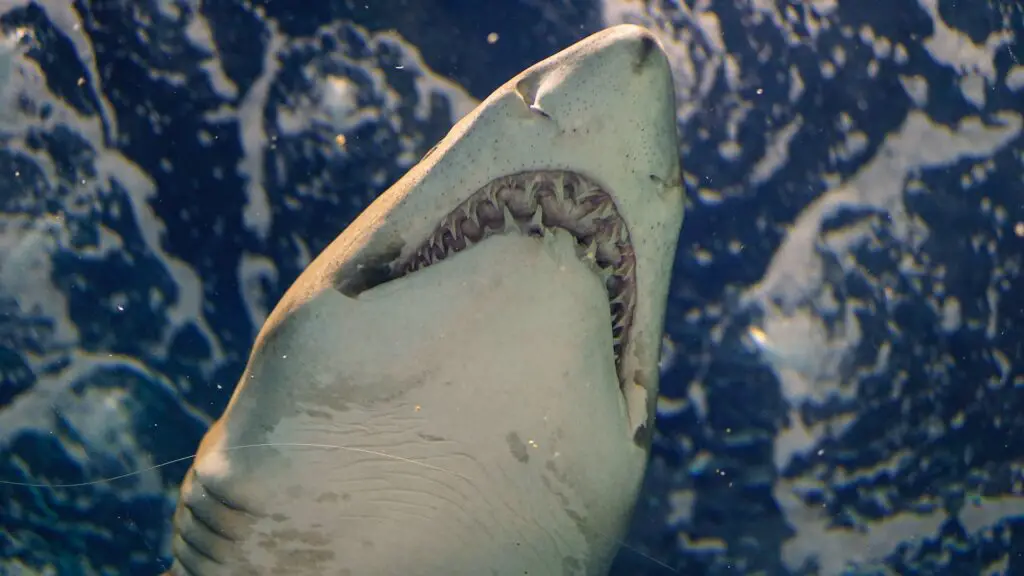 What is special about shark teeth?
Sharks being one of the top apex predators have the speciality for having one of the most strongest and deadly teeths in the ocean environment.
Their teeth are very deadly, sharp, and powerful ones that can easily cut the muscles of the prey and can easily grind the bones with its grind flattened-like teeth.
The most awesome speciality about the shark teeth is that their teeth can grow and re-grow thousands of times throughout their lifetime if they have lost them.
So, that's why it has been said that sharks never run out of teeth. If one is lost, another spins forward from the rows of backup teeth.
Their teeth are the most important and specialized organs that function to nourish and sustain their life as they eat a variety of animals including fish and sea lions.
Their teeth are the only specialized organs that allow them to grab and eat larger prey without much efforts, as they don't have limbs or other body parts to grab and kill their prey.
Their razor sharp teeth allows them to rip-off and cut almost anything from flesh to bones of their largest prey. Doing so is very easy for them, just like us when we eat chips.
Those sharks like the nurse shark that have dense and flattened teeth can easily crush and break the shell of turtles, tortoises, or any other molluscs, and crustaceans very easily without any issues. They can do this very easily like that we use our teeth and jaws to break a biscuit.
It is also to be noted that, they do have more than 3,000 tiny little teeth in their mouth that are not used for chewing, but used as a filter instead.
In fact, some sharks can also filter-feed on their prey by opening their mouths to let tiny organisms get sucked into their mouths without using their other teeth at all, apart from the tiny little non-functional teeth.
---
Do all sharks have teeth?
Yes, all sharks have teeth. Some may have sharp triangular pointed teeth, some with flattened teeth, some may have sharp needle pointed teeth, and some may have many non-fuctional little teeth.
Now, what type of teeth will the shark have will totally depend on the shark's feeding habit and species type.
Some sharks can have more than one type of teeth in many rows over the the upper and lower jaw. Just like, some sharks can actually have as many as 15 rows of teeth in each jaw.
There is no proper stereotypic shark jaw and dentition arrangement that is representative of the group as a whole. This is because of the vastly different diets and lifestyles of the various groups of sharks.
Just for instance, if you see a nurse shark than you will find that they have many rows of very dense and flattened style teeth helpful for crushing hard-shelled organisms like crabs and even turtles.
Also, if you see other sharks like the bull sharks then you will find that they have needle like teeth for chewing and feeding on smaller fishes and squids, or even other smaller species of sharks.
Some sharks for example, can have all identitical teeth. Just like the tiger sharks, that have rows of almost 24 identical triangular-pointed hook-like teeth both in the upper and lower jaws.
Some sharks like the Basking sharks, Whale sharks, and Megamouth sharks are all filter-feeders, which means they filter plankton through their gills. They all have teeth, but scientists don't really know what they use them for yet, and some debate that they use it to suck their food into the mouth.
In most of the shark species, you will find that the teeth that are used to cut are situated in the upper jaw, and those that are used to grab and hold onto a possible prey are placed in the lower jaw.
In simple words, all of the sharks do have teeth and the majority of the sharks have the lower teeth that are needle-pointed like, while the upper rows of teeth are triangular pointed shaped.
---
Why do sharks never run out of teeth? Do sharks grow new teeth after the previous one has broken?
Yes, sharks never run out of teeth because when one of the teeth of the shark gets lost, or broken, or blunted than it gets replaced by another one.
So, that's why it's said that they never run out of teeth, as when one is lost, another one moves forward from the rows of backup teeth.
This replacement and regaining of teeth happens so much and so many times because unlike our teeth, sharks' teeth are embedded in the gums rather than the jaw. The genetic mechanisms underlying this process, however, have been unclear.
They do have many rows and sets of teeth. Some of the many shark species can have between 5 to 10 rows of teeth, and can also have as many as 3000 teeth at once including all of the rows.
Those like the tiger sharks and bull sharks have sharp triangular pointed teeth that often get blunted as they use them very often for killing and feeding upon their prey. And, it's a good thing that the sharks never run out of teeth, as they lose up to 100 teeth per day.
They are the most powerful predators and have the most deadly teeth. In fact, their tough teeth are made up of calcium phosphate minerals.
Whatever be the material of the teeth, but a shark can actually shed their teeth thousands of times throughout their lifetime, growing new ones in their place.
Researchers have mentioned that during their lifetime, sharks can regain and regrow each one of their lost teeth over a period of a few days or months. This regeneration time depends on the species type and their feeding habit.
---
Do sharks have jaws?
Yes, sharks have jaws. They have two jaws in all viz. one upper jaw and the other lower jaw.
The upper jaw is non-movable while the lower jaw is moveable and so the lower jaw can articulutely move freely while hunting, crunching, biting, and feeding time.
They are cartilagenenous fishes so they have their jaws made by parts of catilages joined with one another.
It is to be noted that all of the cartilaginous fishes like sharks have no bones in their head skeleton or any other part of their internal skeleton. All of the endoskeleton is made up of cartilage.
The upper jaw cartilage consists of the Palatoquadrate cartilage, while the lower jaw cartilage consists of the Meckel's cartilage in all sharks.
Just like in most animals, the lower jaw moves freely but the upper jaw is firmly attached to the skull. In sharks too, the upper jaw rests below the skull but can be detached to wide open when the shark attacks its prey.
Lower jaw mobility varies among different species, but all modern sharks have this ability to some degree.
So summing up, sharks do have a very unique jaw structure, which makes their mouths, especially effective weapons.
The gums of their jaws have rows of teeth coming outside and backup teeth hiding inside the gum. The backup teeth get replaced within days to months if the main teeth get lost.
---
What are the different types of shark teeth?
The teeth of the sharks largely vary based upon their species type and food habits. And, so not all sharks have the same type and structure of teeth.
In general, if you see, there are four main types of teeth. These include needle-like teeth, dense flattened teeth, non-functional teeth, needle-pointed lower jaw teeth, and triangular-pointed upper jaw teeth.
Other extinct and fossilized teeth types like Transitional teeth, and Megalodon teeth have also been seen in many sharks that are now extinct.
Now, let's know about each of this teeth type:
1. Needle-like teeth: Some sharks like the bull shark, tiger shark, etc. have this type of teeth to grab and hold their prey just like a hook before they kill and feed on the prey. These teeth are mostly very effective for grasping slippery meals. 
2. Dense flattened teeth: Some sharks like the angel sharks and nurse sharks use this type of teeth to crush hard animals, like that of the shell of crustaceans, turtles, tortoises, etc. and feed on them.
3. Non-functional teeth: The teeth of plankton and vegetation feeding sharks like the Basking shark and Whale shark, use this type of teeth to filter feed the food items entering their mouth or through the gills. These teeth don't involve in bitting, cutting, or grabbing the prey as these are greatly reduced and non-functional in nature.
4. Needle-pointed lower jaw teeth: Some sharks like the Great White Shark have this type of teeth to grab the prey while the other type of teeth will cut their prey such as the large mammals and fishes.
5. Triangular-pointed upper jaw teeth: The majority of the sharks including the Great White Shark and Bull Shark use this type of teeth to cut the muscles and bones of their prey while the Needle-pointed lower jaw teeth have grabbed the prey in the jaws.
6. Transitional teeth: Transitional teeth are included in the list of those teeth that are difficult to be assigned in the list of particular species of sharks because the differences between these teeth are not distinct but gradual due to various evolutionary changes. So, these are teeth that represent the transition between the two species and so-called transitional teeth. Just, for example, the teeth from C. auriculatus as it evolved into C. angustidens are difficult to definitively identify as coming from either species and so included in the list of Transitional teeth.
7. Megalodon teeth: The megalodon teeth meaning "big tooth", is the teeth of an extinct species of shark called C. megalodon that lived approximately 2.3 to 3.6 million years ago. The size of the smallest megalodon teeth are only 1.2 cm in height, while the largest Megalodon teeth can reach up to a height of about 17.7 cm.
---
How many teeth do sharks use during their lifetime?
During their different ages of life, they can have somewhere between 300 to 3,000 teeth.
And during their whole lifetime they can have somewhere between 30,000 to 40,000 teeth.
Now, how come they do have so many teeth during their lifetime? It's because of the fact that they can generate new teeth from the backup teeth, once the old teeth are lost, or get blunted, or get broken.
If you take the example of Great White Shark, then it is to be noted that they do have up to 3,000 teeth with five rows of teeth at one time.
The front set of teeth is the largest and does most of the biting. Like all sharks, the great white shark may grow and use more than 20,000 teeth at least during its lifetime.
So, in very simple words, sharks do not rely on their two sets of teeth as they do have an endless supply of teeth, with a dentition that regenerates constantly throughout their life.
It is also to be noted that in some sharks, a new set of teeth develops after every two weeks! So, no worries at all regarding their teeth.